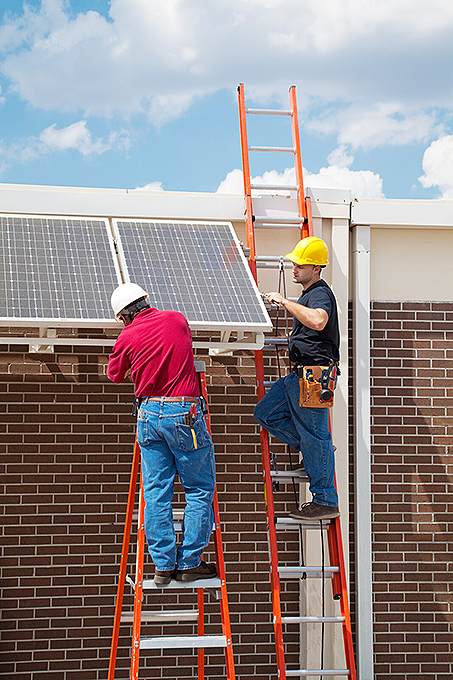 ENERGY
INCENTIVES /

ENERGY

AUCTIONS

Saving energy is saving money and is just plain good...

It's good for the environment and it's good for your pocketbook...not to mention, your piggy bank. 

If you've made energy-improvements in your building(s), we may have a big bonus for you. Uncle Sam likes the idea of U.S. businesses saving energy and rewards those who do.

There are energy-saving incentives at the federal, state, local and private level. We know what they are and we'll find them for you.

Enter, Reverse Energy Auctions...

The reverse auction energy program works much the same way as e-Bay, except instead of bidding the price up, the goal is to bid the price down. An energy deal is presented for auction based on the customer's specified terms. Suppliers then bid directly against each other electronically during a pre-specified bidding period for the right to service that deal. The lowest priced bidder wins, thus ensuring that the customer gets the best possible deal for saving on their energy cost while expending the least amount of time and effort on their part.

The customer can witness the auction live and is offered a contract from the winning bidder just as soon as the auction closes. The client is under no obligation to sign; however, prices are only good for that day.

This program is available in the following states ONLY: CA*, CT, DC, DE, IL, MA, MD, ME, MI*, NH, NJ, NY, OH, PA, RI, TX (CA & MI deregulated with restrictions)

We'll not only find you tax incentives, we'll show you how to save more energy, how much it will cost and what the ROI is. ROI = spend now, save now! 

Be energy-conscious...Call us today for a free evaluation. 

For more info or a free assessment of your business, call: (949) 272-5120 or write to: info@aproposworldwide.com.
Hello - We ENHANCE YOUR PROFIT LINE
All of our savings and incentive programs bolster your bottom line, but programs such as the Virtual Payments Accounts Payable Solution actually create additional income by capturing rebates for your company, as you would, personally, with your own rewards credit cards.
HELLO - WE CREATE COST-SAVINGS
You can calculate yourself what a single dollar of cost-savings represents in relation to generation of your front-end revenue. We often find thousands, hundreds of thousands, or even millions of dollars of cost savings with a myriad of our contingency-based, unique programs. Give us a try.
HELLO - WE FIND Tax Incentives
Our Tax Incentive Team of expert engineers, attorneys and accountants does only one thing…tax incentives. They are expert at it, have the studies perfected, and find millions of dollars of "hidden" tax incentive money for our clients every year.
☎︎ Schedule us for a complimentary 15-minute assessment call
We'd love to help you find some "hidden money." Click the "Let's Chat" button and schedule a 15-minute call with us at your convenience. 15 minutes is all we need to determine which of our many contingency-based programs you may be eligible for!
WHY CHOOSE US?
With the experience of more than 20 years in the cost-recovery arena, we are sure to find you some "hidden money."
Us...
Apropos Communications, Inc.
Apropos Communications, Inc., DBA "We Find Hidden Money" is a ten-year-old Cost-Recovery Consultancy, incorporated in California in 2013, and part of a resource-rich collective of Consultant Advisors across the United States
Our National Team of Subject Matter Experts